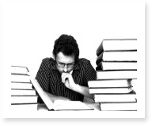 To hear "Congratulations, Doctor!" you need to overcome various difficulties. Writing a doctoral thesis is one of them. Writing and defending a doctoral thesis is an obligatory requirement you have to meet if you want to become a Doctor of Philosophy. In this article, we will present tips on how to write a strong doctoral thesis. The main features of a doctoral thesis are:
A doctoral thesis presents the author's original research and findings;
A doctoral thesis is valuable for the science;
A doctoral thesis accumulates previous research on a problem, presenting its critical evaluation.
The main steps to writing a doctoral thesis are:
Introduction – here you present your work, analyze its significance, state your problem clearly, outline the methods you are going to use, and introduce the structure of your doctoral thesis;
Background – at this stage, dwell upon previous research, speak on its significance and outline the sources your own investigation will be based on;
Analysis and interpretation of information – here you consider what literature is needed to cover your thesis topic and how to get access to the sources;
Conducting research – this is the most important stage of doctoral thesis composing. Make sure your research is based on a properly chosen scientific method;
Critical assessment – make a critical evaluation of the work done and say what requires further improving. State whether the results achieved correspond to those expected;
Summary – at this stage, overview the work done and present a brief but sufficient outline of the main findings;
Appendix and Bibliography – here you acknowledge the sources used.

Note that all stages of doctoral thesis writing are interconnected and flow one from another. Sticking to the suggested structure will help you prepare a well-organized and logically arranged doctoral thesis. Besides, planning everything and sticking to your plan may help you during your doctoral thesis defense.

Good luck!