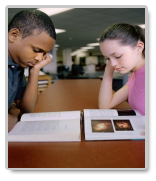 ProQuest dissertation is a paper stored in any university library database. The main peculiarity of a ProQuest dissertation is that it provides a model of an excellent dissertation project that students can take advantage of. How?
Well, they can create, structure and format their own dissertation projects on the basis of the ProQuest dissertation found by analogy. ProQuest dissertation can also be useful in the course of possible ideas to be included into your own paper.
Still, ProQuest dissertations have their disadvantages as well. What do we mean? Let us explain:
ProQuest dissertations parts, sentences or ideas are frequently copied by students. Thus, their own dissertations are much plagiarized that can be a real threat to their degrees and reputation. When reading a ProQuest dissertation, some students involve into reading and consider their own ideas to be senseless. In fact, they just do not have enough writing skills to express their thoughts clearly and correctly. That is why they have to copy the sentences, thus – plagiarize;
ProQuest dissertations can sometimes be a barrier for the student's imagination development. Many students do not rely on their own creative thinking, since they see the opportunity to FIND the idea, but not CONTRIVE it. Although, the advantage of a ProQuest dissertation in this case lies, at least, in giving the basis of what to write about;
ProQuest dissertations can only prevent you from concentrating on your own project. Dissertation is a serious paper that needs absolute concentration on the topic. If you compare all the time how the ProQuest dissertation's writer expresses the idea with what you are writing, you will lose the idea at all. Besides, your paper may get a certain writing style that differs much from your own.
It is up to you to decide whether you need to use a ProQuest dissertation or not, but if you do, use it reasonably.