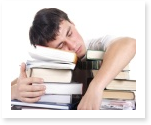 You know that books can be used in different ways:
you may sleep on them
you can make up a fire with them
you may use them as papers
you may just read them and get desirable information
The necessity of books is more perceptible in the process of writing literature reviews. Before you start writing a literature review, you need to do two things:
comprehend the essence of writing a literature review
learn more about the required structuring
Our purpose here is to provide you with all necessary information for literature review writing:

Let us start with a description of the essence of literature review writing

To write a literature review means not only the process of analyzing past findings. Writing a literature review will be worthwhile only when you find more than 5 related sources, analyze them, synthesize, compare and evaluate. At the end, you need to relate all information with your own research project and reproduce facts in a written form.

Let us continue by introducing the way of structuring a literature review

Do you know how to write a literature review? Are you aware of the necessary literature review outline? You are surely lucky, as right now we will present you the general structure you need to follow when writing a literature review:
Start with an abstract (sum up the content of your work briefly);
Make an introductory part (point out the purpose of writing this literature review);
Present the main body (describe methods, results and discussion within this chapter of your literature review);
Create a concluding part (state the results of your work and prove that they make sense);
Now you know why you need a literature review in your paper and how to organize it correctly! It is high time to check your knowledge – write a literature review!