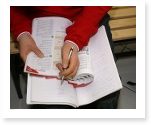 Definitely, teachers and many students consider fake essays, courseworks, and other papers one of the forms of cheating. Perhaps, it is really so, but sometimes, using a fake essay is the only way out.

For instance, this way to complete assignments will perfectly fit those who are prone to procrastination and usually end up with writing last minute essays. One of the ways to make fake essays will also be suitable if you need to write an essay for a test and have no idea how to answer one of the questions.

Here are more details on how to make fake essays.

How to make fake essays: way #1

This is the easiest, but also a dangerous way to prepare a fake essay. You should do the following:
Surf the Web and find several free papers on the assigned topic.
Read these papers carefully, decide whether they cover your topic properly, and decide on the most useful passages.
Finally, copy passages from several essays you find the most useful into your Word document.
We strongly recommend you make some changes into what you have copy-pasted, because otherwise you will be easily spotted by a teacher.

How to make fake essays: way #2

We have mentioned that fake essay writing skills can be useful during tests when you do not know an answer. If this is the case, you should:

Read a question and think about a short answer to it.
If you have no short answer, try to recall at least something related to what is asked.
Create a thesis statement. In your fake essay, this will be the main question you are asked transformed into a sentence. If you have a short answer, include it into your thesis.
Finally, start making the body of your fake essay. What you have to do is make your paper look longer. Do not use contractions, set up bigger margins, add descriptive words.
We should say that fake essays do not work sometimes. For instance, it is better not to use this method when writing college narrative essays or scholarship essays.